South Korean online game developer NEXON has recently made some large-scale investments as part of an innovative experiment: to expand the gaming universe to include film and TV streaming content, while also applying behavioral psychology and machine learning to intensify immersive experiences in the virtual world. Notably, it has mentioned the imminent arrival of a platform that will enable anyone to develop games, similar to how videos can be created and uploaded on social media. In this exclusive interview with Forbes Korea, Owen Mahoney, the chief executive officer of NEXON, revealed details of his plan to make the company an intellectual-property kingdom comparable to Disneyland.
"Automation and Democratization of Game Development."Creating films and videos used to fall into the domain of specially trained professionals. It required high-tech cameras, capital, and editing technology to slice and stitch films together. But now, even a 12-year-old can make entertaining videos and upload their creations onto social media such as TikTok.Owen Mahoney, CEO of NEXON, said, "We are big believers that the game industry needs to have TikTok moments, it means to open up game creation to much broader users, anybody from anywhere in the world, young or old, can make the compelling experience just using their creativity"Concerning the goal of this project, Mahoney wrote on his blog: "Many of the most innovative games come from the indie universe — since indie games are usually low-res and low-budget, indie developers can try crazy new ideas without all the expense … Such investments in automation garner no applause among investors in the near term, but over a period of years the return-on-investment increases and compounds over time, and we believe will pay back 10 or 100x."He added, "It's moving along quickly. We could push our developers to come out earlier but we really want to make it great. Our viewpoint is that we need to be thinking in terms of decades, so we're trying to do something much better."Mahoney said that the company is now focusing on polishing the project, which could be a game-changer for the industry in the coming decades. Although he did not specify the timing of the platform's launch, he did note that it "won't be this year," although he suggested the date would not be too far in the future.From the first investment in 2018, in Sweden-based Embark Studio, Mahoney has since put resources into increasing NEXON's stake in the company, and acquiring it as a subsidiary. He said that NEXON holds a stable capital reserve amounting to 6 trillion won and has been involved in several investments and M&As. The acquisition of Embark Studio was the biggest of this series of investments.One of the three collaborative projects between NEXON and Embark Studio involves game-development automation, while the other two concern new intellectual properties (IPs); namely The Finals, a first-person shooter battle game that will debut soon; and ARC Raiders, a cooperative third-person shooter. The trailers for these were released recently. As the Embark Studio–NEXON collaboration nears its initial completion, both the industry and users are awaiting the results with anticipation."Most first-person shooter games resemble one another, but The Finals is distinctive in its use of virtual reality," Mahoney said of the game. Consisting of fighting between the user's team and their opponents on virtual battlefields, The Finals is said to offer unprecedented dynamism and strategic elements. As for the ARC Raiders universe, the CEO summarized the concept as "fighting the invasion of robots armed with machine learning inside the virtual reality of the distant future."He noted, "Embark Studio is a young games company, but its members all come from the production company behind the global megahit Battlefield and have amazing talents and creative brains. We followed them carefully when they left DICE, which was behind Battlefield, and the industry has coveted them. At the same time, Embark Studio showed interest in our IPs, Dungeon & Fighter and MapleStory. They noticed the fact that Dungeon & Fighter grossed more than the movie Star Wars series and wanted to learn from NEXON's experience in real-time online games, a growing field. It was this excitement toward each other, the synergy, and the opportunity to realize mutual benefits, that finally brought about the successful acquisition."NEXON's "live operations" is actually in the top tier globally, making it the company's biggest asset, and the source of its competitiveness. The concept of live operations treats both users and the game as constantly changing organisms, and seeks to change and grow the game according to its users' ever-shifting demands. Depending on what users want, live operations games offer diverse motivating elements, such as new skill acquisition, relationships with other users, and autonomy. Mahoney said, "With NEXON's Dungeon & Fighter in its seventeenth year, and MapleStory in its eighteenth, I am most often asked about our experience with the live operations when I travel abroad. I explain our live operations by comparing it to Disneyland. When you go to the theme park, characters, events, a fantastic universe, and other elements converge to make it a special place. In virtual reality, users experience different characters, then compete and cooperate with them to gain items and follow the plot. What is important is the balance, in terms of the interaction among these elements."According to Mahoney, the role of live operations in virtual reality is to create new, healthy content, manage the user base, and prevent inflation. In other words, it aims to continually offer new reasons for users to stay interested and take on new challenges. He explained it in the following way: "In sports or games, people find it most interesting when they work with others who are just a bit above their skill level because it maximizes their focus."He continued, "Psychologically speaking, participants are most engaged and interested when their skills and sense of challenge find an appropriate balance. Conversely, we are cautious about situations in which the opponents are too strong, which leads to users feeling defeated and losing interest, then eventually leaving."Securing online game users is a difficult task and requires a large marketing budget. But if these users that the company has worked so hard to attract lose interest after five minutes of playing the game, or leave the game because there is too great a disparity between users' skill levels, all of that effort goes to waste. In the industry, this phenomenon is referred to as an issue of "game balance." NEXON utilizes machine learning to maintain that balance. That is, its team analyzes the data they have accumulated, ranks users in real-time, and groups them into similar levels for gameplay. NEXON's Intelligence Labs reflect and utilize this algorithm and apply it not only to the environment within the games, but also to the "virtual world", a form of virtual reality promoted by the company."There is more focus on virtual experience technology such as VR to create a high degree of immersion in a virtual environment like the Metaverse. But I think an intelligent approach based on human psychology is more important. For over 20 years, NEXON has given a lot of thought to how a virtual world should be operated effectively, and Intelligence Labs is currently developing various solutions and tools to that end."NEXON is actively expanding its Metaverse, which they refer to as the "virtual world". On September 15, the company launched a test service for NEXON TOWN; a mobile virtual world community platform. Here, users interact as avatars of their own design, or as NEXON's game characters, in diverse locations such as town squares, classrooms, campgrounds, and conference rooms from NEXON's game inventory. It does not stop at simple, one-dimensional conversations, but allows users to engage in multidimensional communication, including video-sharing and data exchange.He said "The company started as an online gaming company and has been a pioneer of the virtual world. To the massive landscape of the virtual world, we apply different universes, stories, characters, technologies, and tools so that millions of users can come and enhance their relationship and engagement with each other."
Expanding Game IP to Film and TV Content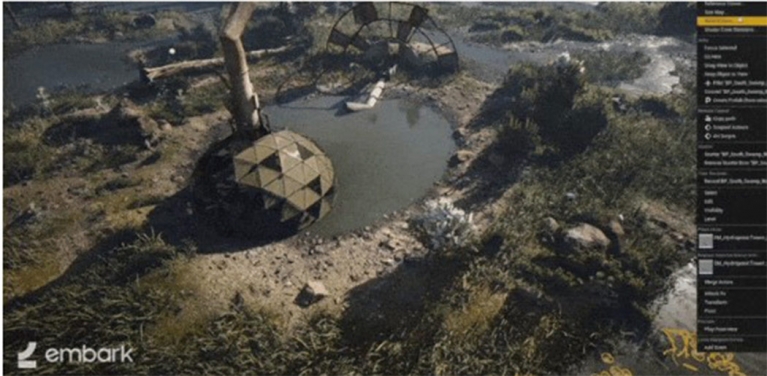 ▎An automation tool and platform currently being developed by NEXON in collaboration with Embark Studio which will allow developers to cut down on the enormous time and effort that it normally requires to make games, enabling them instead to allocate more time to creative tasks.
NEXON recently launched a new division, NEXON Film & TV, intending to turn game IPs into linear entertainment such as films or TV streaming. To this end, NEXON has invested in AGBO , a U.S. company behind the global blockbusters Avengers: Endgame, Avengers: Infinity War, and The Gray Man, and is set on developing film content."NEXON's games have a commonality with filmmaking," said Mahoney, "Just like Marvel, we build a universe, and place characters and stories within it. There have been many examples of films based on games, and their box-office results have been good, although, I'm not sure about their artistic merits. There's nothing concrete yet, but we are in initial talks about transforming our games into films."On a recent visit to the U.S. for a wedding, Mahoney was surprised by the number of his acquaintances who were enamored with Korean culture content. He is confident that "Korea will be the Hollywood of the virtual world with its film content."He added, "I believe that NEXON, and Korea as a whole, are leaders and can be the best in terms of the entertainment of the future, including virtual reality and e-sports. Now that the virtual reality market is in full gear, NEXON and I have big ambitions for expanding globally. Metaverse is still nebulous in its definition or substance. But just as Apple developed iPhone, providing customers with a charming experience, NEXON will build a virtual world that will also offer a charming experience for users."By Zinone Lee, photograph by Miyeon Ji for Forbes Korea